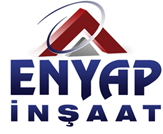 Providing living space since 1977 to thousands of people, Enyap Construction, developed by making a difference with its new dimensions to ''living space'' concept thanks to spearheading activities in its field and a long-running trust relationship with its customers, is an enterprise having model projects.
Since its establishment, It has carried out and added value to many construction works in several parts of Turkey such as thousands of houses, hundreds of business centre projects, schools, plazas, roads and general state hospitals and continues its works with the same speed and spirit.
Offering always the best price for the best dwellings, Enyap Construction, providing the fastest investment return up to 65 % for real estate investors in the region, is continuing its planning activities for new projects in accordance with increasing customer demands.
Enyap Construction provides high quality structures in accordance with applicable law, regulations and specifications in a manner to meet the expectations of the market and customers by means of constructive-architectural analysis in construction business, contracting, public housing, hospitals, schools, sports halls, etc.
It maintains constant improvement activities effectively to meet changing customer demands swiftly. In order to give quality service, we always closely watch the technologies in sectoral field, and encourage our suppliers and sub-contractors to improve their qualities.